SEXUAL ENHANCERS
#
A
B
C
D
E
F
H
I
K
L
M
N
O
P
R
S
U
V
Z


Lava Pills
With powerful ingredients intended to boost a woman's climax and sexual enjoyment, Lava Pills may help improve a woman's overall sexual health and satisfaction.

What are Lava Pills?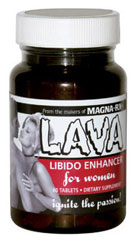 Created by experts in the Naturopathic field of study, Lava Pills are unique sexual supplements that are intended to boost a woman's sexual arousal and passion. With a select combination of ingredients, consumers of Lava Pills report an overall boost in their libido, as women additionally report an array of enhanced sexual reactions. Specifically, Lava Pills are designed to stimulate benefits such as:

Increased libido

Intensified sexual arousal and intimacy

Heightened climax / more intense orgasms

Increased feelings of calmness and relaxation

Increased ability to focus on the various movements and motions of intercourse

Boosts a woman's reproductive and sexual wellness and health

How Do Lava Pills Work?

With the unique combination of ingredients, Lava Pills begin to stimulate feelings of arousal by allowing the body to feel more relaxed and sensitive. Some of the powerful Lava Pills ingredients include agents such as:

Chrysanthemum Morbifolium

Sage Leaf

Black Cohosh Root

Red Raspberry Leaf

Avena Sativa

Beta Sisterol

Kudzu Root

As the Lava Pills ingredients take effect, women should notice a heightened sensitivity in their erogenous zones, especially around the clitoris. With increased sexual sensations, women can enjoy more satisfying foreplay along with intensified intercourse and orgasms.

Pros of Lava Pills

Lava Pills contain natural ingredients that serve to promote a woman's sensuality / arousal

This product has not been shown to cause any harmful side effects

Women can conveniently purchase Lava Pills online

Consumers of Lava Pills may experience a variety of benefits, including increased sexual pleasure and improved sexual health

Boosting one's sexual desire and libido may help foster a closer and more passionate sexual relationship with one's partner

With an overall increased sexual sensitivity, women may be able to achieve multiple orgasms, increased sexual stamina, and an increase in the frequency of sexual sessions

Cons of Lava Pills

This product has not been approved by the Food and Drug Administration

There are currently no extensive studies or trials to support the manufacturers claims / intended benefits

The long term side effects / implications are generally unknown

Women should meet with their physician prior to consuming Lava Pills. Additionally, women should check to see if any currently prescribed drugs can cause harmful interactions with the Lava Pills ingredients

Women who are not interested in becoming pregnant may be dissatisfied with the claim that Lava Pills boost a consumer's reproductive health. It is unclear as to whether or not these supplements may make a woman more fertile

The quality of the Lava Pills ingredients are generally unknown